First and foremost, this film is entertaining, and appears useful in providing 'Hollywood' credence to the severity of our predicament. For those of us immersed in the world of climate and collapse activism, it is also potentially cathartic in its witty satire of the idiocracy we encounter everyday – be this the insanity of infinite growth on a finite planet, the corruption/incompetence of decision-makers, fantastical techno-fix offered up as 'solutions', or knee-jerk responses to the idea that civilisations do, inevitably, fail.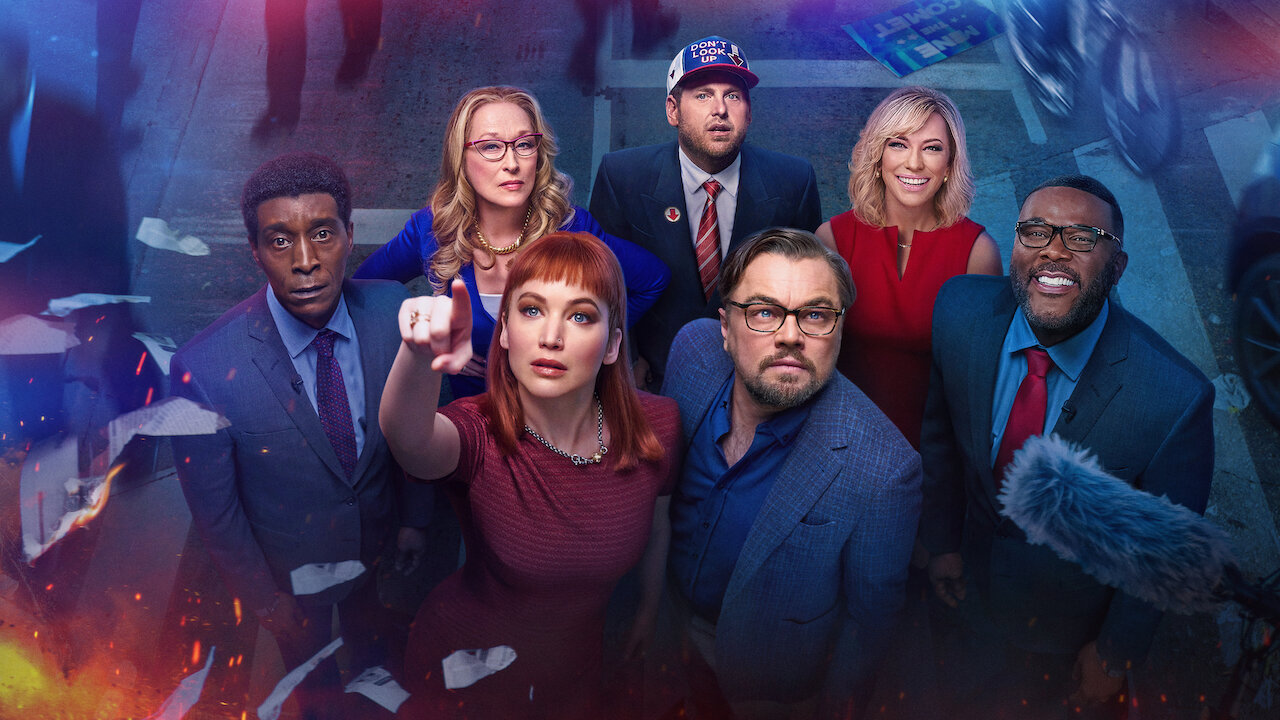 Yet, this satire is a double-edged sword. If the meteor is a metaphor for climate change, then Don't Look Up understands climate change as an external threat and not one in which we (the affluent west) are complicit. As Jeff Gibbs, Planet of the Humans, says, the meteor is us. In denying the true nature of our predicament, the derision of those who refuse don't look up or who find looking sideways more meaningful is not useful. It appears likely to alienate rather than convince people who are not already aware and active.
In this movie, the populace and all power (political parties, corporations, and media) are a blurry blancmange of idiocracy. There are no alternative politics on offer other than a misapprehension of science as 'truth' and scientists as 'truth-tellers'. As the IPCC's clumsy modelling and promotion of fantastical techno-fixes exemplifies, this is not how science and scientists actually function.
Many argue that we need systemic and radical economic and political change to address climate change and collapse. The film makes no meaningful contribution in this regard. In fact, it does a pretty good job at maintaining the status quo. Rioting by informed and disgruntled citizens is depicted as part of the problem and is instantly quelled. A star-studded rock concert fronted by scientists is depicted as significant and meaningful, but it is unclear why and how.
Interestingly, the main scientist in Don't Look Up, played by Leonard DiCaprio, was, in part, inspired by Professor Michael E. Mann. This certainly explains a few things! Mann has cultivated a celebrity status in climate science, arguing that the 'solution' to climate change is, ultimately, political. Yet, he offers no overt political remedy beyond following and acting on his worldview: that climate change is fixable and the global modern techno-industrial status quo can be maintained through a transition to renewables and electrification; and, that informed and concerned activists who recognise and act on the true nature and severity of our predicament are part of the problem and should be censored.
Overall, we found Don't Look Up very entertaining and cathartic, but largely meaningless in terms of real, radical change.